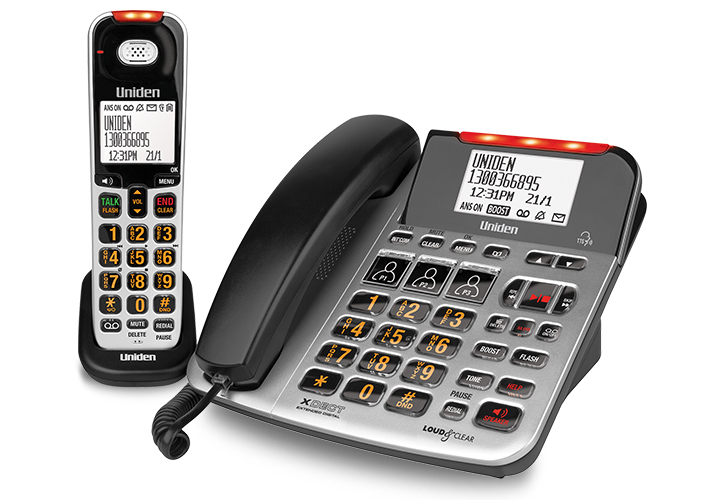 Packed with useful features, the Uniden SSE47+1 phone system is both a convenient and a versatile telephone to assist in daily communication. This combo comes with a wall mountable corded base and additional cordless handset. The Uniden SSE47+1 is equipped with an extra loud ringer, visual ring indicator and integrated digital answering machine with slow audio playback option making it less likely for you to miss an important phone call.
The SSE47+1 features Text to Speech (TTS) Technology with the ability to read and announce the name of the caller and a Help button to make an emergency call to up to 5 preset numbers. For those unable to reach the handset easily to call for assistance, the Uniden SSE range includes an optional wireless Alert Pendant (additional cost applies) that can be easily worn around the neck or arm for easy access.
With a 7 day battery standby time and up to 10 hours talk time, the SSE47+1 also includes large screen buttons that are ideal for people with hearing or vision difficulty and is also hearing aid compatible.
Medical Note: If you have a personal medical device such as a pacemaker or hearing aid, please consult with the manufacturer of this device (Uniden) to determine if it is adequately shielded from external RF (radio frequency) energy. This telephone product operates in the frequency in the frequency range of 1.88 GHz to 1.90 GHz and has a maximum output power level of 0.25watts.
Features of this product
Extra loud ringer: Extra loud earpiece volume control at 50dB.
Hearing aid compatible: Compatible for those with hearing aid (T-Coil).
Slow playback and slow talk mode: Integrated digital answering machine with slow playback function and slow talk mode for real time voice.
Ideal for hearing/vision difficulty: Large screen buttons making it ideal for those with hearing/vision difficulties.
Long standby and talk time: Up to 7 day standby time and up to 10 hours of talk time.